As an Event Presenter ourselves, we understand due to some uncertain conditions we may have to Postpone the Event. We have a few possible solutions which you can consider as an Event Presenter.
1)Event Postponement:-
Learn how to change your event dates in just a few clicks!
i) Select the event from the box office and click on "Edit" just beside the Event info (How do I Edit Event?).
ii) Welcome to the Event Wizard page, wherein you will find options such as Event Info, Pricing, Customize, etc, we have to click on "Event Info."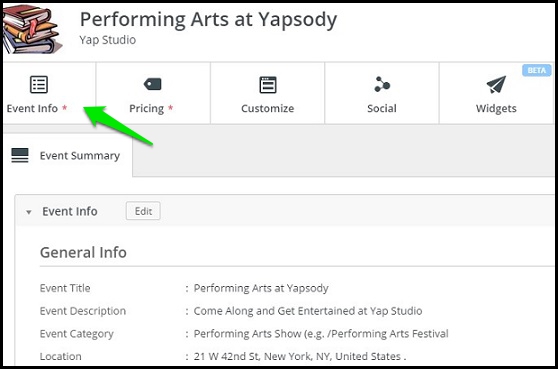 iii) Now click on the "Performance" tab just right next to Event Details.

iv) Upon clicking on Performances, you will find all Performance/s scheduled for the event, simply click on the one you want to postpone.
v) Now you will get a pop-up window of "Edit the Performance" simply change the Start Date & Time and End Date & Time.

Please Note: The changes will be applicable only for that particular performance.
To increase awareness about the changes to your event and avoid any confusion among the ticket buyers, we suggest sending an email informing people of the reason for the change in event date. You can choose to issue new tickets or honor the preexisting tickets. If you choose to reissue tickets with the new date, learn how you can Re-deliver ticket (Click Here).
To find the list of all the attendees who would be attending the event (Click Here).
2) Event Cancellation:-
If you prefer to cancel the event and refund the tickets, the following steps are for you!
i) Firstly we have to Unpublish/Cancel the event to ensure there are no more ticket sales, in order to learn how you can do that, please (Click Here.)
ii) Once you have done Unpublishing/Cancelling the event, simply refund the tickets/transaction by referring to this Article.
Note: Don't have Yapsody account? Sign up now and sell your first 50 tickets with NO ticketing fee & collect money directly in your favorite Payment gateway account.