Curious to know how much your event could earn, by paying us our share (Yapsody Fees), even before you set up?
We got your back, our MAGICAL Calculator can show you the Estimated Earning of your event in just a few clicks! All you need to do is input your numbers for our system to do all the calculations and process your earnings, We assure you won't end up burning more than a couple of calories to do all the MATHS!
1) Visit https://www.yapsody.com/ticketing/pricing/ and scroll the page down till you see "Calculate Earnings."
2) Now select the Event Category (General Admission OR Reserved Seating) and click on "Next."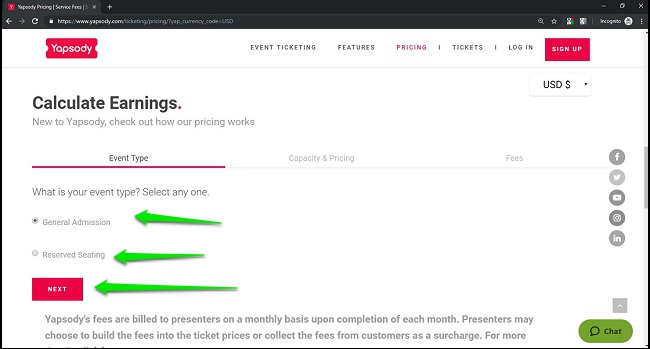 3) Enter the "Event Capacity" & "Per Ticket Price" and click on "Next".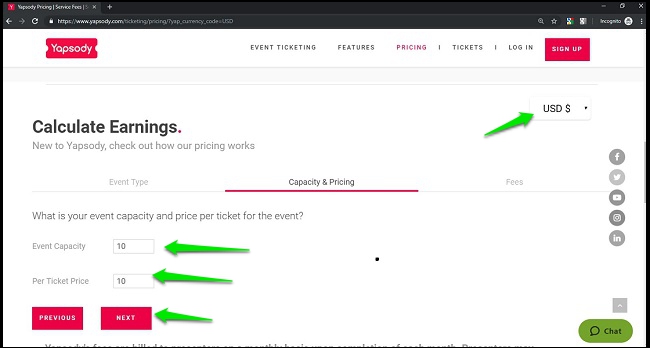 Note:- You can also change the currency by selecting from the various currency option from the available drop-down just beside Calculate Earnings to the extreme right.
4) Now Select Your "Fees Type"
i) Pass on Fees (By choosing this option, the Yapsody Fees will be passed on to the customer in the form of Surcharge and the ticket price along with Yapsody Fees will be credited to your Payment Gateway Account.)
For Example:- Your Event Ticket Price is $100 and Yapsody Fees is $2.34, the customer will be charged $102.34 at the time of ticket purchase. You can also refer the below screenshot in order to understand how this function works, the calculation in the image is for General Admission Event with the Event Capacity of 100 and the ticket Price for $100.
The Estimated Revenue of your event as well as Estimated Yapsody Fees both can be been seen to the right, highlighted in the RED box.

ii) Absorb Fees (Wherein you will incur the Yapsody Fees and Customer will only be charged the ticket price.)
For Example:- Your Event Ticket Price is $100 and Yapsody Fees is $2.34, the customer will only be charged $100 at the time of ticket purchase and $100 will be deposited to your payment gateway account.)

Note: You also have the option to change the input (Event Capacity and Per Ticket Price) anytime by clicking on "Previous."
Note:- In both the conditions we send you an invoice at the start of every month in order to collect Yapsody fees, as we at Yapsody do not hold funds.
Still, have questions? Reach us via CHAT by clicking on the Chat Icon at the bottom right or email us at support@yapsody.com and we would be more than happy to help! Remember we are available 24X7 and 365 days of a Year at your service!
Don't have Yapsody account? Sign up now and sell your first 50 tickets with NO ticketing fee & collect money directly in your favorite Payment gateway account.