You can add Rows and Columns to the Reserved Sections. Kindly follow the below-mentioned steps to add Rows and Columns to added sections.
Click on the option 'Add Section' under the Manage sections Tab and select the option 'Reserved Section'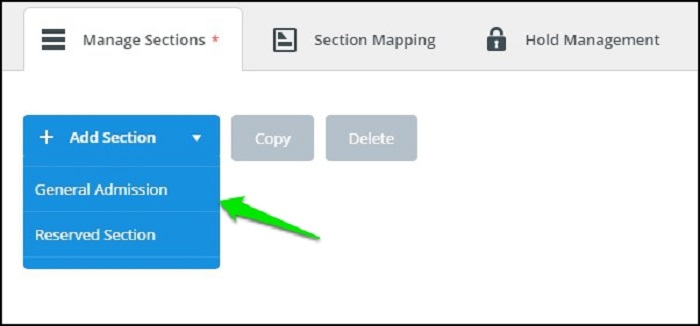 You will get a pop-up window to add Reserved Section. You will have options to Name the section and add the desired number of rows and columns to the section.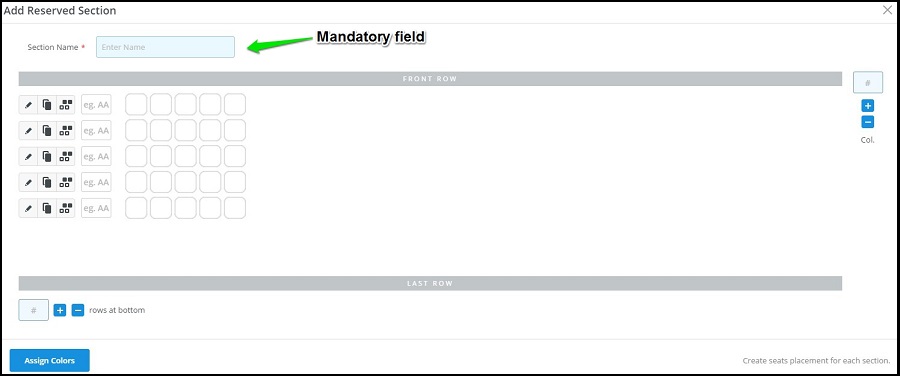 To add rows to a particular section. Enter the number of rows in the box at the bottom that you want to add and click on the addition (+) sign.
To add columns to a particular section. Enter the number of columns in the box at the top right-hand corner that you want to add and click on the addition (+) sign.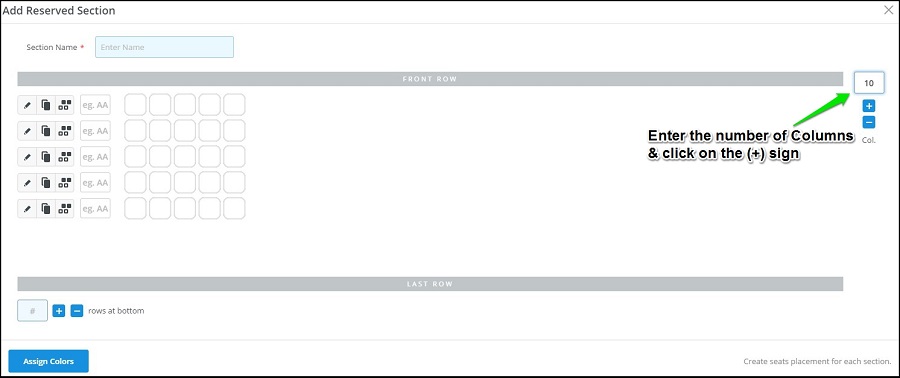 Note: Section Name is a Mandatory field.
Once you are done outlining the sections and rows, it's time to assign them seat numbers, you can manually assign numbers to each seat, which would be surely a time-consuming task.
Let our system do all the work for you in no time, all you have to do is click on the "Pen (Edit)" icon, i.e. the very first option from the left of each row.
Whether it would be a continuous number like 1-2-3 or odd/even numbers such as 1-3-5 or 2-4-6 and etc, the"Auto-generate seat id" drop-down option needs to be selected accordingly. In case, you are planning to assign even numbers simply enter "2" under the Start with option.
Seat Id Direction allows you to assign seat numbers starting from Left to Right or Right to Left.
Lastly, if all the rows of a particular section would have the same seat numbers you can simply check the box before "Apply for all Rows" and click on "Apply."
Please Note:- The above options are available for each and every row of all the sections, so you can design your seating arrangements as per your venue in no time!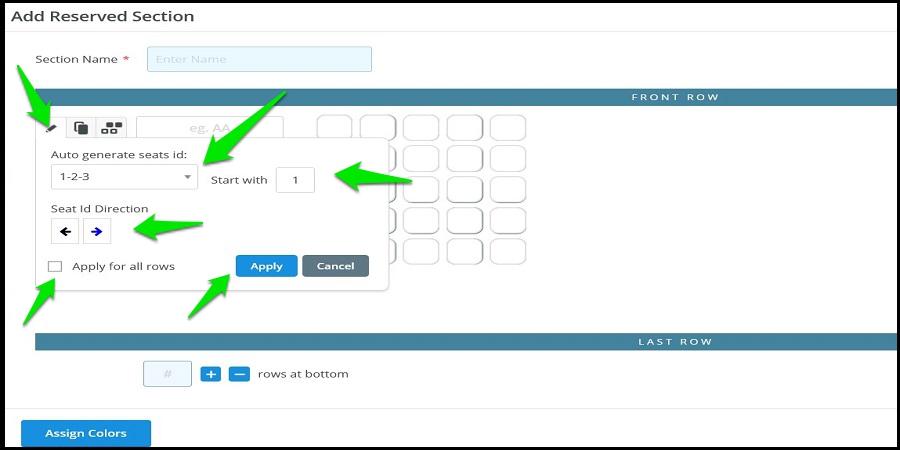 Click Here to know how to Assign Colors to the seat.
Don't have Yapsody account? Sign up now and sell your first 50 tickets with NO ticketing fee & collect money directly in your favorite Payment gateway account.