To scan event tickets with an External USB Laser Scanner your scanner should support 2D (QR Code) barcode symbology, once you are sure the scanner meets the only criteria we have, you can follow the below-mentioned steps to set up the Barcode Scanners to scan tickets :
1) Attach the USB Scanner to your Laptop / Desktop.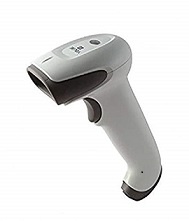 2) Now press and hold the small power button until the LED turns blue, and it beeps twice.
3) Once the scanner is active, login to your Yapsody account and select the event from your Box Office Interface, for which you want to scan tickets.
4) You will be displayed the event details on the right-hand side. Click on the button 'Scan tickets'.

5) Now select the Scan mode option as "External USB Laser Scanner" and start to scan the tickets.

Note:- You can also perform a Test Scan before you go live by clicking on "Test Scanner" next to "External USB Scanner" to make sure the scanner is working as expected and to understand the Functionality.
i) Upon clicking on "Test Scanner" you will get a Test Bar Code for a Scan, make sure to Face the Scanner as directed.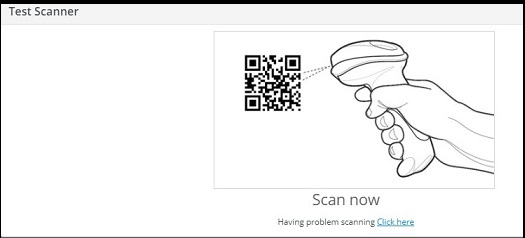 ii) Upon successful Scan, you will get a confirmation "Test Scan Successful."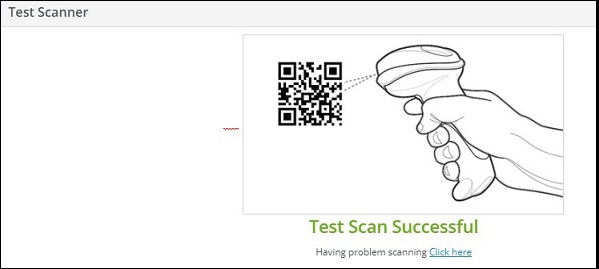 Still, having trouble scanning tickets via External Scanner, simply refer to the below tips:-
The scanner has a viewfinder that projects a bright red laser that corresponds to the scanner's vertical field of view. While scanning a QR Code the laser can be positioned in any direction for a good read. It can be positioned vertically, horizontally or even diagonally.
2D Matrix symbol (QR Code)

The laser is smaller when the scanner is closer to the code and larger when it is farther from the code. Symbology with smaller bars or elements should be read closer to the unit. Symbology with larger bars or elements should be read farther from the unit. To read single or multiple symbols (on a page or on an object), hold the scanner at an appropriate distance from the target, pull the trigger, and center the laser on the symbol.
Please Note:
You will be able to see the scan option only after the limits that you set for 'Start Scan Time' while creating the event has been triggered.
Only users who have permissions to scan the Tickets will be allowed to scan. The permissions can be changed only by the owner.
The External USB Laser Scanner allows you to only scan your tickets; you will not be able to un-scan a ticket using the External USB scanner. To un-scan a ticket you need to either use the manual scan OR the YapScan application.
Don't have Yapsody account? Sign up now and sell your first 50 tickets with NO ticketing fee & collect money directly in your favourite Payment gateway account.