Customer list report undoubtedly can be said as one of the most important report for event presenters that helps to maintain the records of all the ticket buyers.
Whether you are looking to locate list of customers with most tickets purchased for your events or who have opted in to receive marketing emails from you? the details are easily accessible under the Customer List Report, keep reading to learn how you can utilize this report to your maximum benefits.
In order to access the report, mouse hover on the account name at the top left and click on "Customer List" from the drop-down list.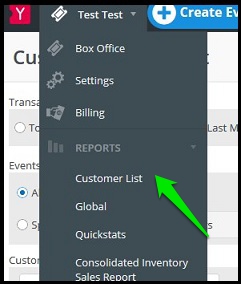 Customer List report offers variety of options to search Customer Details as per your preference. For Example you can search the records using Transaction dates, Specific Event or All Events, Customer Name, etc. In order to ensure the system process accurate details ensure clicking on "Generate Report" after selecting the search option.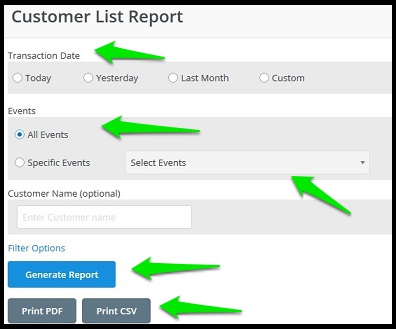 Note:- To Download the Customer List Report in PDF or in CSV file, please click on "Print PDF or Print CSV" button.
Moreover to advance your search you can also use "Filter Options" which is available just below Customer Name.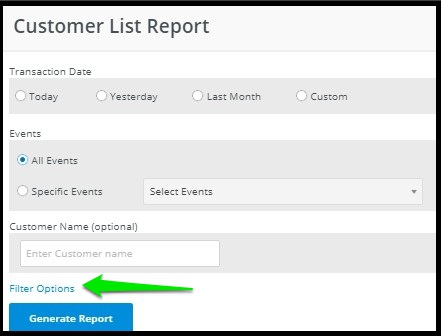 The filter option helps to modify your search results to the next level, you can filter the search as per Event Genres, Minimum & Maximum Tickets Purchased by your Customer, their Age as well as the customers who have "Opted-In" or "Opted Out" to receive marketing emails from you. Finally to ensure system generates report as per the filter applied don't forget to click "Apply" and then "Generate Report."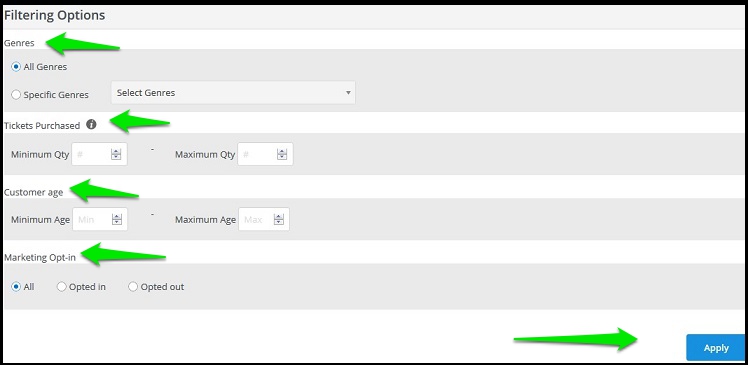 Please Note:- Customer list report captures successful as well as failed transactions, however there is no option to filter them, in order to check the transaction status of a Customer as per the event, simply click on customer name or email address after selecting the Event. Upon clicking you will find the list of all the transactions for your events and their transaction status.
By any chance, if you face any difficulties while accessing customer list report, please feel free to reach out to us. We are available on "Live Chat & Email support" 24 x 7 and 365 days of the year!
Don't have Yapsody account? Sign up now and sell your first 50 tickets with NO ticketing fee & collect money directly in your favorite Payment gateway account.