Thank you so much for entrusting us with your event ticketing operations. We at Yapsody take this responsibility very seriously. Given the recent outbreak of COVID-19 and its impact on our event presenters across the globe as well as their communities, employees, and families, we would like to take a minute to share some recommendations for your events as well as Yapsody's plans for business continuity.
Despite the uncertain nature of COVID-19, our event ticketing platform will be LIVE and our customer support team will maintain the same level of service excellence for our event presenters & their guests.
Change Your Events
COVID-19 has affected most of the countries and a major chunk of global businesses. While healthcare & scientific personnel do their best, people are advised to follow precautionary measures to minimize the spread. This has resulted in people canceling outstation trips and events which is natural considering the nature of this pandemic.
As an Event Presenter ourselves, we understand how this situation could affect you and your event investments. We have a few possible solutions to facilitate your event ticketing during this critical phase.
1)Event Postponement:-
Adhering to the regional safety guidelines and laws laid down by your country or local government, you have the option to postpone your events with Yapsody.
Learn how to change your event dates in just a few clicks!
i) Select the event from the box office and click on "Edit" just beside the Event info (How do I Edit Event?).
ii) Welcome to the Event Wizard page, wherein you will find options such as Event Info, Pricing, Customize, etc, we have to click on "Event Info."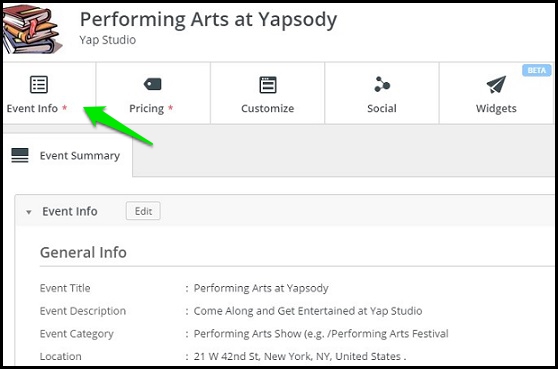 iii) Now click on the "Performance" tab just right next to Event Details.

iv) Upon clicking on Performances, you will find all Performance/s scheduled for the event, simply click on the one you want to postpone.
v) Now you will get a pop-up window of "Edit the Performance" simply change the Start Date & Time and End Date & Time.

Please Note: The changes will be applicable only for that particular performance.
To increase awareness about the changes to your event and avoid any confusion among the ticket buyers, we suggest sending an email informing people the reason for the change in event date. You can choose to issue new tickets or honor the preexisting tickets. If you choose to reissue tickets with the new date, learn how you can Re-deliver ticket (Click Here).
To find the list of all the attendees who would be attending the event (Click Here).
2) Event Cancellation:-
If you prefer to cancel the event and refund the tickets, the following steps are for you!
i) Firstly we have to Unpublish/Cancel the event to ensure there are no more ticket sales, in order to learn how you can do that, please (Click Here.)
ii) Once you have done Unpublishing/Cancelling the event, simply refund the tickets/transaction by referring to this Article.
3) Precautionary Measures:-
As an Event Presenter, you can follow precautionary measures as well as regulations & guidelines set by your local medical authority at the venue such as distributing masks to all the attendees, making sanitizers and Handwash readily available, and suggesting ways for your guests to greet each other that don't involve bodily contact. You can find more relevant information about the same at the WHO website:
https://www.who.int/emergencies/diseases/novel-coronavirus-2019/advice-for-public/myth-busters
Availability of our Platform & 24/7 Support
Yapsody is a global company, with employees in every department working in various locations. Our engineering and support teams continue to be available to support our presenters and their customers around the clock through this challenging period. For our external technical service providers, such as cloud infrastructure vendors, we partner with only the most sophisticated, enterprise-grade, global organizations, who themselves have also been ahead of the curve in best-practices during this outbreak. This will ensure that our ticketing system and technical support services are always available for you and your customers 24/7.
If you face any difficulties while following any of the above suggestions or have any questions about Yapsody services, please feel free to reach out to us. We are available on "Live Chat & Email support" 24 x 7 and 365 days of the year!
As one of the technology leaders in event ticketing, we are honored to partner with over 100,000 event presenters globally, providing a secure and trusted platform to power their events.
Note: Don't have Yapsody account? Sign up now and sell your first 50 tickets with NO ticketing fee & collect money directly in your favorite Payment gateway account.