In order to link Moneris as the payment gateway to your Yapsody account, you will require:-
Merchant Name
API Token
Store ID
Please Note:- In order to find out the merchant name and store id, please refer to Moneris Welcome letter/Email and activation Letter/Email. Once you have activated your account, you can retrieve the API token within the Moneris Gateway account.
All you need to do is log in to your account via the Merchant Resource Center and go in Admin > store settings.
If you no longer have your Welcome and Activation Letter/Email, please contact Moneris Support.
Moneris is only available for presenters who are based out of Canada and wish to process payments in Canadian Dollars.
Once you have the details handy, continue reading the article to start accepting funds from your event ticket sales in just a few clicks!
1) Hover the mouse on the account name at the top left and click "Settings" from the Drop Down.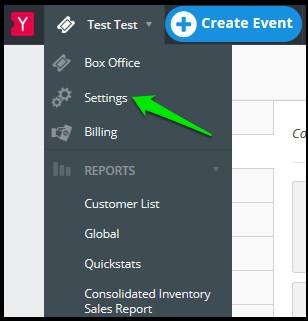 2) Click on "Accept Payments."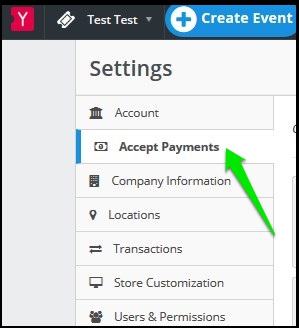 3) Click "Add Payment Method" at the top right or "Configure" right next to Credit Card.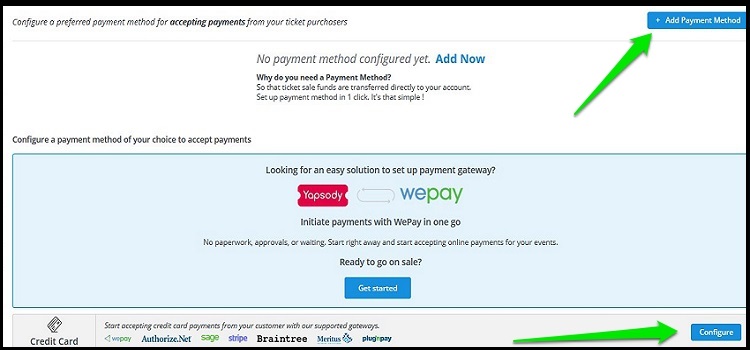 4) Now select the payment method as "Credit card" and select "Moneris" from the List.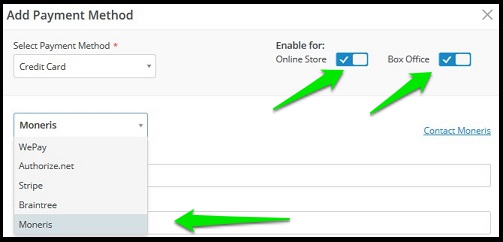 Note:- You can also enable the payment option location-specific i.e either for box office or online store.
5) Now enter the Merchant Name, API Token and Store ID in their respective fields and click "Add" at the bottom of the pop-up to ensure they are saved.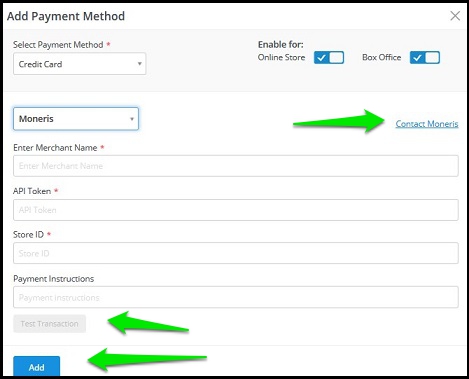 Note:- You can also do a test transaction by clicking the "Test Transaction" option available just below "Payment Instructions" to ensure we have set up the details correctly, once the transaction is successful you can refund the amount directly from your payment gateway account.
Moreover, the payment instructions Field would be helpful in adding instructions such as "payment accepted via Credit as well as Debit card." The instructions will appear on the checkout page.
By any chance if you face any difficulties while linking Moneris to your account, please feel free to reach out to us, we are available on "Live Chat & Email support" 24 x 7 and 365 days of the year!
Don't have a Yapsody account? Sign up now and sell your first 50 tickets with NO ticketing fee & collect money directly in your favorite Payment gateway account.