You can Create an Event with both General Admission areas and Reserved Seating areas. You will need to create a Reserve Seating event (How Do I do this?) and then will be able to add General Admission Sections.
For Example: Your event has 4 Reserved Sections and 2 General Admission sections. You will have an option to add General Sections while creating the seating chart for the event along with Reserved sections.
Kindly follow the Below mentioned steps to Add General Admission to a Reserve Seating Event.

You will see options like Manage Sections and Seating Chart. Click on 'Add Section' under the Tab Manage Sections.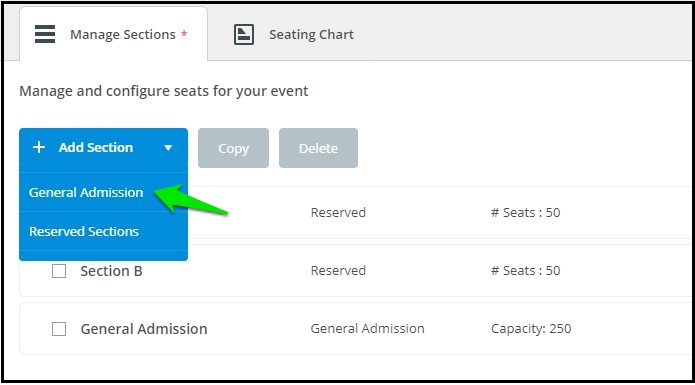 You will have an option to either add a General Admission or a Reserved Seating section as per your Seating Chart. You can add multiple General Admission and Reserved Sections as per your Seating Chart requirements.
Note: You can contact our Support Team via email at support@yapsody.com for any help required to create your desired seating chart or alternatively, provide them with the seating details and they will create the seating chart for you.
Don't have Yapsody account? Sign up now and sell your first 50 tickets with NO ticketing fee & collect money directly in your favourite Payment gateway account.