As of October 10, 2017, we have introduced a Billing Plan for General Admission Event.

General Admission & Reserved Seating each have 2 fee components: (Fees vary by country)
A flat per-ticket fee (A few countries do not have the flat fee component)
A percentage of the net ticket price after discounts
Our regular pricing is already low compared to market rates. Nevertheless, we also offer 3 discounted pricing tiers as part of our Loyalty Program.
Gold Tier Presenters receive up to 20% off our regular pricing
Platinum Tier Presenters receive up to 40% off our regular pricing
Elite Tier Presenters receive up to 60% off our regular pricing
Note:- The discounted Pricing for Reserved Events slightly differ for each tier for the US & Canada and they are as follows:-
Tier Plan Canada United States
Gold 10% 10%
Platinum 20% 20%
Elite 50% 60%
To learn more about our regular pricing and pricing tiers, go to www.yapsody.com/ticketing/pricing.

If you already have a Yapsody account, you can see the Tier (Pricing) Plan you are active on by logging in to your account, all you have to is open any event set up and click on the Pricing tab.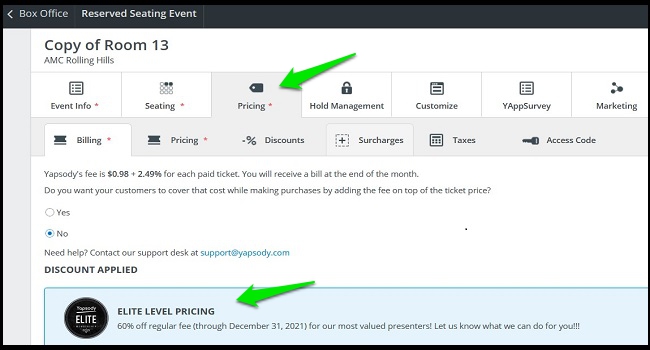 TIP: We don't charge a Yapsody fee for the first 50 paid tickets for new accounts.
To get this offer sign up now and create your account on Yapsody.
TIP: What are the exceptions in which Yapsody Fees are not applied?
Note: To sell tickets Online you will require to set up a Payment Gateway and they will charge you a Payment Gateway processing fees. To cover the Payment Gateway charges you can also add a Surcharge. How to add a surcharge?