Yapsody doesn't have own Payment Gateway but you can link your Business PayPal account with Yapsody to process payments.
Note: When you use PayPal to collect payments, PayPal automatically deducts their payment processing fee before depositing the funds into your PayPal account. You'll also be collecting the Yapsody Processing & Flat fee for which we'll invoice you for at the end of each month.
Set up a Premier or Business PayPal account.
If you haven't already set up a Premier or Business account with PayPal. Yapsody requires a premier or business account to link PayPal to your event, so if you already created a PayPal account directly to confirm your account is set up.
Tip: Be sure to verify that your PayPal account is created before you start selling tickets. You'll receive a confirmation email from PayPal, and you can also contact PayPal directly to confirm your account is set up.
Pro Tip: You'll want to enable Express Checkout so attendees aren't required to pay with a PayPal account and can check out as guests.
After setting up the Paypal Premier or Business account Kindly follow the mentioned steps to request your API Username, API Password, and API Signature
Go to the PayPal website and log into your account

Click on the option "Activity" at the top left of the page followed by "API Access."

Now you will be directed to "Your payment API credentials" page, scroll the page down until you see "NVP/SOAP API integration (Classic)" and then click "Manage API credentials."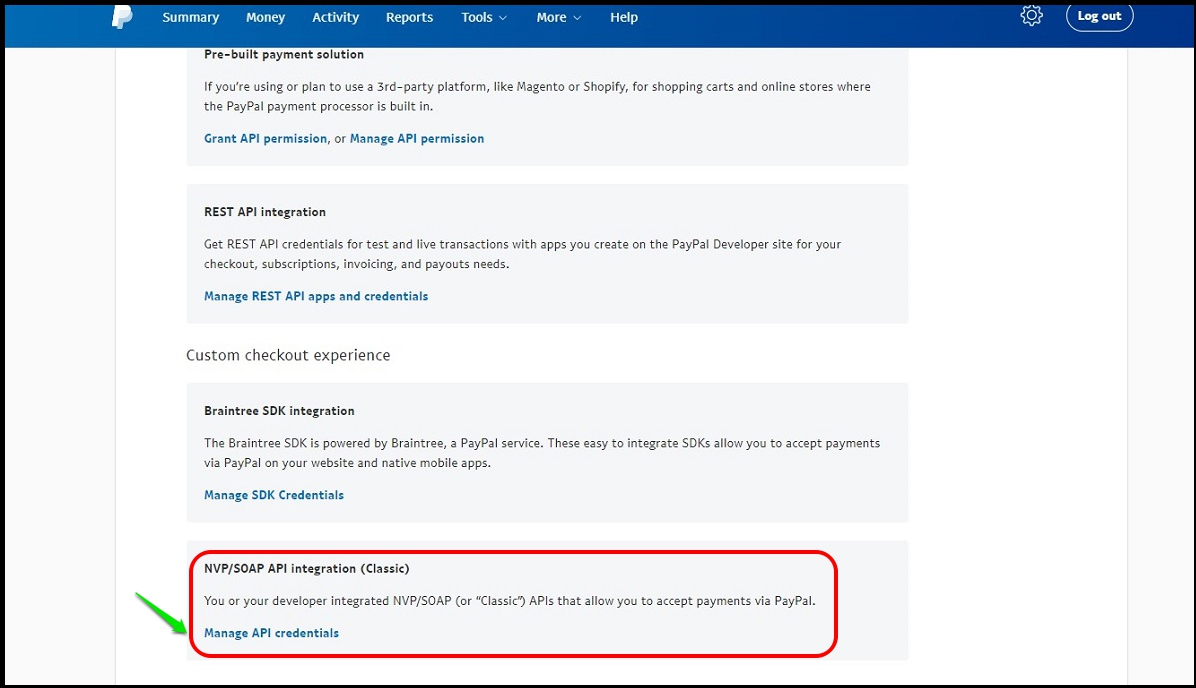 Note:- Upon clicking on "Manage API credentials" you may be asked to verify yourself, simply follow the on-screen instructions to validate.
Upon successful attempt you would be directed to "View or Remove API Signature" page, simply click on "Show" against each option to access them.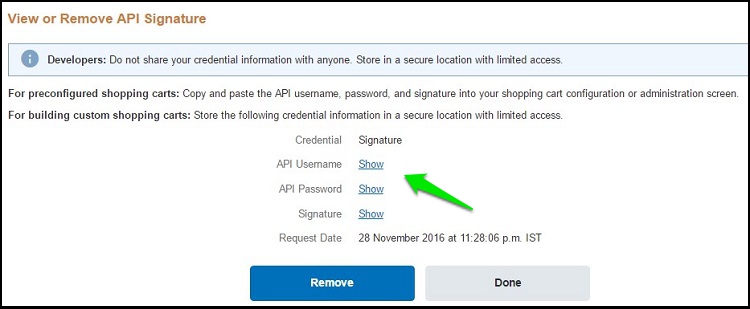 You can enter the API and set up PayPal as your payment gateway(How do I do this?) using the credentials received by you.
To get your API username and credentials, you can also follow these steps.
Log in to your PayPal account.
Click the Account Settings option next to "Log out."
Click Account access under "Account & Security" on the left of the page.
In the API access section, click Update.
Select the View API Signature or View API Certificate options.
Don't have Yapsody account? Sign up now and start selling tickets for your events & collect money directly in your PayPal account.